Welcome to the home of California's premier 7-on-7 LGBTQ+ flag football league. Established in 2004, the SDAFFL is one of the largest flag football leagues of its kind in the United States with over 200 players and home to the seven-time NGFFL national champion San Diego Bolts! Please follow us on Facebook or Instagram or contact us in person at info@sdaffl.com if you have any questions about the 2024 season.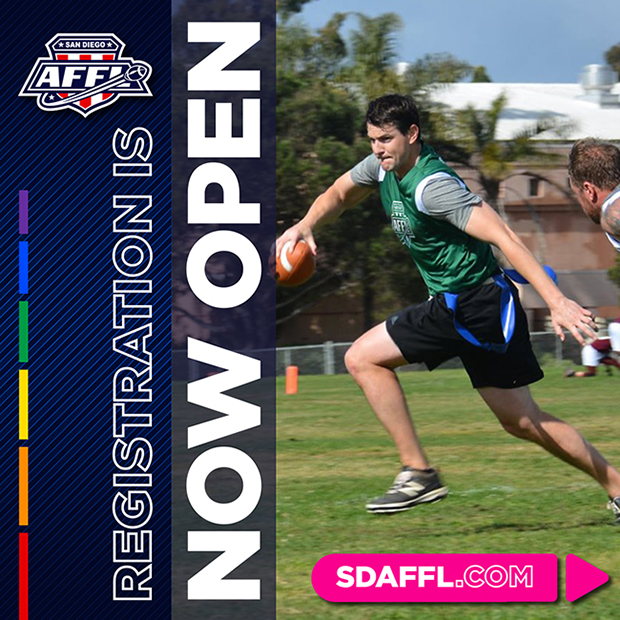 Registration for the 2024 SDAFFL season is now open! The cost to participate is $135 for the Open division (minimum 12 games) and $75 for the Women's+ division (minimum 7 games). Women's+ players may register and play in both divisions, but will be required to pay both fees. Your fee includes your team jersey and a complimentary league t-shirt. Regular season games are held on most Saturdays from early-March to early-June at Nobel Athletic Fields in UTC/La Jolla. You can register now by clicking the REGISTER tab in the menu above and selecting which division(s) you wish to play in.

If you have never played in the SDAFFL before, you must first create a profile by clicking "Sign Up" at the top of this page and click the "Create Account" tab. Once you have created your profile and registration is open, click the REGISTER tab and select a division. Once there, you can proceed by entering your personal information specifically or by logging in via Facebook. You must pay your season registration fee at this time.

Any individual who registers and participates in at least one of the two Player Clinics (January 20th or 27th) will be drafted to a team. Space is limited! If you have any questions about the league, our two divisions, or registration; please visit our FAQ page or contact us at info@sdaffl.com!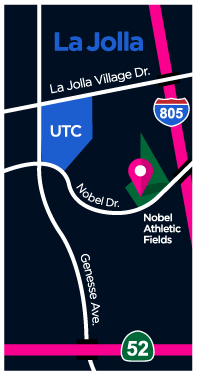 Mission Statement:

It is the mission of the San Diego American Flag Football League (SDAFFL) to foster the self-respect of Lesbian, Gay, Bisexual, Transgender, Queer and Allied persons and to promote respect and understanding of these persons from the community at large through the positive social and athletic enjoyment of American Flag Football.

Through the flag football league, its events and fundraisers, the SDAFFL hopes to provide an outlet for the general public to interact with and see LGBTQ+ persons outside of the stereotypical settings commonly associated with these persons. In so doing, the SDAFFL intends for its efforts to educate the public about LGBTQ+ persons in order to foster an understanding and tolerance of these persons. The SDAFFL believes that these efforts play a role in eliminating prejudice and discrimination against LGBTQ+ persons.